Our company...
...manufactures thermally bound needled non-woven fabric weighing from between 40 to 1.000 g/sqrm on seven assembly lines.
Based upon our experience accumulated over a period of many years, modern-equipped systems as well as our flexibility, we are able to quickly react to the requests and wishes of our customers in a specific manner as well as being able to provide solutions to problems in the respective technical area of application.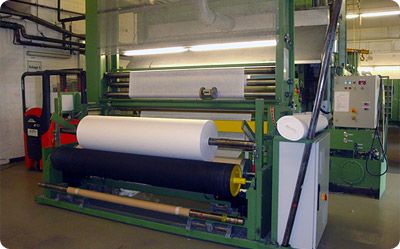 Technical non-woven materials
Alongside the coating substrates for the shoe industry as well as special needled non-woven materials for the automotive industry (covering non-woven materials, injection materials) non-woven materials for use in the field of roofing in the construction industry is also one of the production focal points of our company. We also manufacture filter non-woven materials that are then used in the most diverse of areas.
We individually develop and manufacture these articles for our customers.
Cleaning Wipes / Household Wipes
In 1969 we specially developed a viscose non-woven material with an extremely high level of suction and that was abrasion-resistant for cleaning purposes. This product still conforms to the high levels of expectation from our customers today.